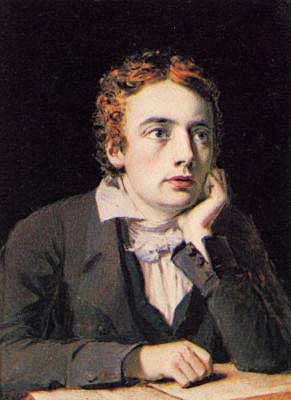 John Keats (1795 – 1821)
Für meinen Erstling
Leb wohl, Kind meiner rechten Hand, und Freude;
's war Sünde, dass du mir so viel bedeutet.
Du warst mir nur geliehn auf sieben Jahre,
Mit deinem Schicksal zahl ich just die Tage.
O wär ich doch kein Vater je gewesen!
Warum beklag ich ihn, der so genesen,
Der früh der Welt, der Fleischeswut entflohn
Und dem des Alters Qualen nicht mehr drohn?
Ruh sanft in Frieden, fragt wer, sag: Hier liegt
Ben Jonson und sein herrlichstes Gedicht,
Der sich zuvörderst eins nur ausbedinge,
Dass Liebe nicht mehr so zu Herzen ginge.

____________
Ben Jonsons Sohn Benjamin (hebr.: Kind zur rechten Hand,
vergl. 1. Zeile), war im Alter von sieben Jahren an der Pest gestorben.
Seiner spröden Dame
Weib, hätten wir mehr Raum und Zeit,
Erlaubt wär spröde Lauterkeit.
Wir säßen da und dächten nach
Wie's Leben hingeht Tag und Nacht.
Du könntst, am Ganges-Ufer gehnd,
Rubine finden und ich flehnd
Am Humber knien, und wär dir gut
Zehn Jahre noch vor Noahs Flut;
Du hauchst dein Nein, zart, doch bestimmt,
Bis alle Juden Christen sind;
Bis meiner Liebe Pflanzenwuchs
Weltreiche deckt, ganz langsam wuchernd.
Schon ein Jahrhundert würd es brauchen
Dein Aug zu preisen, die Stirn zu beschauen;
Zweihundert Jahr für jede Brust,
Wohl dreißigtausend bis zum Schluss:
Zeitalter wär ein jedes Stück,
Das letzte erst wär's Herz voll Glück.
Dies ist noch nicht zu weit getrieben,
Wollt' dich nicht gern geringer lieben.

Doch hör im Rücken, flügelschlagend,
Ich stets der Zeit eiligen Wagen;
Und vor uns liegt weit ausgebreitet
Die Wüste öder Ewigkeiten,
Die Schönheit geht vorbei, schon bald
In deiner Gruft mein Lied verhallt,
Und Würmer fressen, was verscharrt
Du dir an Jungfernschaft bewahrt.
Dein Ehrbartun zerfällt zu Staub,
All meine Lust wird Flammenraub:
Auch's Grab, denk ich, hat seinen Charme,
Doch dort lieger keiner Arm in Arm.

Darum, solang noch deine Haut
So jung und frisch wie Morgentau,
Solang noch deine Seele traut
Aus jeder Pore Feuer haucht,
Lass uns erfreun, wie's eben geht;
Wie Greife, die verliebt, erregt
Mit einem Biss die Zeit verzehrn,
Die sonst so langsam mahlend währt.
Lass unsre ganze Kraft und all
Die Süße rolln zu einem Ball:
Ein Schuss, und unsre Freude reist
Durch's Eisentor, das Leben heißt.
Da unser Stern nicht stehen könnt',
Ist's besser, wenn er schneller rennt.



* * *

     »Welch wundervolle Schönheit! Von diesem Moment an
     verjage ich alle Frauen aus meinem Verstand.«
              Terenz. Der Eunuch, II. Akt, 4. Szene

Füllt bis zum Rand mir einen Kelch,
Drin zu ertränken meine Seel:
Doch gießt hinzu noch einen Trank,
Der Frauen aus dem Geist verbannt.
Ich wär nicht gern vom Strom geküsst,
Des geile Lust das Hirn erhitzt;
Ich wünsch mir einen Schluck so tief,
Wie's je aus Lethewellen lief,
Der meine Brust, die ängstlich wallt,
Heilt von dem Bild der schönsten Gestalt,
Die je mein schweifend Aug erfasst,
Die je der Sinne Spiel befasst!

Umsonst – ich kann vertreiben nicht
Den Schmelz, die Weichheit des Gesichts –
Den Augenstrahl, der in mich fällt,
Die Brust, dies Paradies der Welt!

Mein Schaun wird niemals mehr beglückt,
Nichts reizt mich mehr, was ich erblick;
Kann nicht mehr freudenvoll erkunden
Der Klassiker Seiten – der Musen Kunde.

Hätt sie gewusst, wie's schlägt, mein Herz,
Mich lächelnd dann erlöst vom Schmerz,
Hätt mich Erlösung süß gefreut,
Wenn ich gespürt ›der Qualen Freud‹!
Wie ein Toskaner, der im Schnee
Von Lappland sich zum Arno sehnt;
So soll sie mir für immer sein
Meiner Erinnerung Glorienschein.

1814



* * *
Wie silbern die Möwen ins Dämmerlicht schießen,
Ins östliche Licht, wo Pinien heut
Nichts mehr bewegt als reine Freud;
So floh deine Seele in höhre Gebiete,
Gebiete des Friedens und ewiger Liebe;
Wo glückliche Geister, mit Kronen bekleidet
Von strahlenden Sternen, mit Ruhm bestreut,
Die Freuden erfahrn, die Gesegnete üben.
Dort bindest du wohl die unsterblichen Seiten
Zu Weisen, dass sogar der Himmel so schön
Mit höchster Freude sich füllt, – und auf Weisung
Des allmächtigen Vaters durch Lüfte du strömst
Auf froher Botschaft. – Gibt's höhere Freuden?
Wozu sollte Trauer den Jubel uns störn?

1814



* * *
Gib mir Wein, Weib und Tabak,
Bis mein Schreien gellt: »Lass ab!«
Dies tu ohne Widersprechen
Bis zum Tag der Auferstehung;
Bei meinem Bart, hierin besteht
Meine geliebte Trinität.

1815 – 1816



* * *
1

Huschhusch, tritt leise, huschhusch, denn es stört,
Das ganze Haus schläft, doch wir wissen, wie schnell
Der Glatzkopf voll Eifersucht eifernd dich hört,
Obwohl du die Schlafmütz wattiert, Isabel!
Ist auch dein Fuß leichter als der jener Feen,
Die auf Luftbläschen tanzen, wo Bächlein sich drehn –
Huschhusch, tritt leise, huschhusch, nicht zu störn,
Geringres als nichts kann Eifersucht hörn.


2

Kein Blättchen erzittert, kein Kräuseln erklingt
Vom Fluss – alles ruht, selbst das Nachtauge dumpf
Will nähern sich, statt dass es Lethe uns bringt,
Zu Tode gerührt, weil der Maikäfer brummt.
Und der Mond, weder prüde, noch aufdringlich,
Floh in seinen Käfig, er weiß, ich will nicht
Im Dunkeln sein Scheinen, nichts Helles im Glühn,
Als Isabels Augen, ihre Lippen, die blühn.


3

Hebe den Riegel, sei vorsichtig, Zarte,
Tot sind wir, wenn dieser Riegel leis klirrt,
Geschafft – nun die Lippen, ein Blumenbett wartet:
Der Alte mag schlafen, ein Stern zwinkert dir;
Die Rosen, sie träumen von Liebe, geschlossen,
Erwachen erblüht, von Wärme begossen;
Die Stockente hütet die Brut sanft und quakt,
Wir küssen zur Weise uns, alles gewagt.

1818



April
So zauberisch sind Aprilwinde,
Dass wiederhallen unsre Rahmen;
's Spazierengehn wirkt lustvoll, innig
Auf die Junggeselln und Damen.
Die Hecke steckt voller Demanten,
Die Luft erfüllen Amoretten,
Und schöne Rosamunde sandten
Liebende zum Wasserbecken.
Ein jedes Grübchen in dem Wasser,
Ein jedes Blatt, das Fels schattiert,
Kann kosen, necken und auch rascheln,
Kann Provozierendes parliern.
Ein Kobold (Puck, aber auch Trolle)
Weiß mehr als jedes Buch;
Was da Probleme sollen?
Schnell hellen Bach dir such!
Gewitzt sind Südens Winde,
Die Schulen öd und lahm,
Die Lehrer uns nur schinden
Mit überflüssgem Kram.



On my First Son
Farewell, thou child of my right hand, and joy;
My sin was too much hope of thee, loved boy.
Seven years thou wert lent to me, and I thee pay,
Exacted by thy fate, on the just day.
O, could I lose all father now! For why
Will man lament the state he should envy?
To have so soon 'scaped world's and flesh's rage,
And, if no other misery, yet age?
Rest in soft peace, and, asked, say here doth lie
Ben Jonson, his best piece of poetry.
For whose sake, henceforth, all his vows be such
As what he loves may never like too much.



To His Coy Mistress
Had we but world enough, and time,
This coyness, Lady, were no crime.
We would sit down and think which way
To walk and pass our long love's day.
Thou by the Indian Ganges' side
Shouldst rubies find: I by the tide
Of Humber would complain. I would
Love you ten years before the Flood,
And you should, if you please, refuse
Till the conversion of the Jews.
My vegetable love should grow
Vaster than empires, and more slow;
An hundred years should go to praise
Thine eyes and on thy forehead gaze;
Two hundred to adore each breast;
But thirty thousand to the rest;
An age at least to every part,
And the last age should show your heart;
For, Lady, you deserve this state,
Nor would I love at lower rate.

But at my back I always hear
Time's winged chariot hurrying near;
And yonder all before us lie
Deserts of vast eternity.
Thy beauty shall no more be found,
Nor, in thy marble vault, shall sound
My echoing song: then worms shall try
That long preserved virginity,
And your quaint honour turn to dust,
And into ashes all my lust:
The grave's a fine and private place,
But none, I think, do there embrace.

Now therefore, while the youthful hue
Sits on thy skin like morning dew,
And while thy willing soul transpires
At every pore with instant fires,
Now let us sport us while we may,
And now, like amorous birds of prey,
Rather at once our time devour
Than languish in his slow-chapt power.
Let us roll all our strength and all
Our sweetness up into one ball,
And tear our pleasures with rough strife
Thorough the iron gates of life:
Thus, though we cannot make our sun
Stand still, yet we will make him run.



* * *

          »What wondrous beauty! From this moment
          I efface from my mind all women.«
               Terence's Eunuch. Act 2. Sc.

Fill for me a brimming bowl,
And let me in it drown my soul:
But put therein some drug design'd
To banish Woman from my mind.
For I want not the stream inspiring,
That heats the sense with lewd desiring;
But I want as deep a draught
As e'er from Lethe's waves was quaft,
From my despairing breast to charm
The image of the fairest form
That e'er my rev'ling eyes beheld,
That e'er my wand'ring fancy spell'd!

'Tis vain – away I cannot chace
The melting softness of that face –
The beaminess of those bright eyes –
That breast, earth's only paradise!

My sight will never more be blest,
For all I see has lost its zest;
Nor with delight can I explore
The classic page – the muse's lore.

Had she but known how beat my heart
And with one smile reliev'd its smart,
I should have felt a sweet relief,
I should have felt ‹the joy of grief›!
Yet as a Tuscan 'mid the snow
Of Lapland thinks on sweet Arno;
So for ever shall she be
The halo of my memory.

1814



* * *
As from the darkening gloom a silver dove
Upsoars, and darts into the eastern light,
On pinions that nought moves but pure delight;
So fled thy soul into the realms above,
Regions of peace and everlasting love;
Where happy spirits, crowned with circlets bright
Of starry beam, and gloriously bedight,
Taste the high joy none but the bless'd can prove.
There thou or joinest the immortal quire
In melodies that even heaven fair
Fill with superior bliss, or, at desire
Of the omnipotent Father, cleavest the air,
On holy message sent. – What pleasures higher?
Wherefore does any grief our joy impair?

1814



* * *
Give me women, wine, and snuff
Untill I cry out «hold enough!»
You may do so sans objection
Till the day of resurrection;
For, bless my beard, they aye shall be
My beloved Trinity.

1815 – 1816



* * *
1

Hush, hush, tread softly, hush, hush, my dear,
All the house is asleep, but we know very well
That the jealous, the jealous old baldpate may hear,
Though you've padded his night-cap, O sweet Isabel.
Though your feet are more light than a fairy's feet,
Who dances on bubbles where brooklets meet –
Hush, hush, tread softly, hush, hush, my dear,
For less than a nothing the jealous can hear.


2

No leaf doth tremble, no ripple is there
On the river – all's still, and the night's sleepy eye
Closes up, and forgets all its Lethean care,
Charmed to death by the drone of the humming may fly.
And the moon, whether prudish or complaisant,
Hath fled to her bower, well knowing I want
No light in the darkness, no torch in the gloom,
But my Isabel's eyes and her lips pulped with bloom.


3

Lift the latch, ah gently! ah tenderly, sweet,
We are dead if that latchet gives one little chink.
Well done – now those lips and a flowery seat:
The old man may sleep, and the planets may wink;
The shut rose shall dream of our loves and awake
Full blown, and such warmth for the morning take;
The stockdove shall hatch her soft brace and shall coo,
While I kiss to the melody, aching all through.

1818



April
The April winds are magical,
And thrill our tuneful frames;
The garden-walks are passional
To batchelors and dames.
The hedge is gemmed with diamonds,
The air with Cupids full,
The clews of fairy Rosamonds
Guide lovers to the pool.
Each dimple in the water,
Each leaf that shades the rock,
Can cozen, pique, and flatter,
Can parley and provoke.
Goodfellow, Puck, and goblins
Know more than any book;
Down with your doleful problems,
And court the sunny brook.
The south-winds are quick-witted,
The schools are sad and slow,
The masters quite omitted
The lore we care to know.



Ben Jonson
Andrew Marvell
John Keats
Ralph Waldo Emerson